Introducing MAEV: The Very Capable Overlanding Rig Built For Serious Adventures And Explorations
At the start of the Covid-19 pandemic, I decided to build an overland Jeep to travel and photograph America. Learn more about the build.
During the COVID-19 pandemic in 2020, many have taken up various projects such as gardening or improving their home. I decided to build an overland rig. I'd like to introduce MAEV, my billet silver 2018 Jeep Wrangler JKU. I purchased the Jeep brand new with around 37 miles in November of 2018, just five weeks after I had returned from a trip out west that had changed my life.
Growing up, some of my friends had Wranglers and I was enamored by them; the boxy design, the seven slot grill, the endless possibilities of customization. A previous partner and I had an extensive three weeks of vacation traveling out west and we rented a Jeep Wrangler JKU during our time in Joshua Tree National Park. After driving the Wrangler for a couple of days, I fell madly in love and knew that this was going to be my next vehicle. I figured it was a good excuse to upgrade from my aging 2008 Kia Sorento anyways, which is still driving just fine today!
Planning the build
Yes, it is true what they say… Jeep really does stand for "Just Empty Every Pocket." Since I've had the Jeep, I have watched countless videos, read many articles and chatted with those in the community who overland for pleasure and business. Through my extensive research, I learned the "buy once, cry once" philosophy. Now, I enjoy quality products, and if there is one thing not to skimp on are the modifications. After all, my goal is to travel and photograph remote landscapes, so I need a vehicle with equipment that I can trust not to fail during the times I need it most.
As I was planning my dream rig, I had a few goals in mind:
Build it once, build it right
Make it enjoyable to live in
Support photography exploration
Build it once, build it right
I see it all the time where Jeep upgrades happen gradually (when stock components break) or quickly (when it's realized that the initial upgrade wasn't good enough.) I wanted a Jeep that could take on the Rubicon Trail one weekend, and Moab the next. I knew that when I lifted it and put tires on, I did not want to do this upgrade again in a few years for whatever reason. A lift kit and tires are expensive, why would I want to do this a second time?! So simply put, whatever modifications I made to the Jeep needed to be done once with quality parts that allows me to tackle a range of obstacles.
Make it enjoyable to live in
If I wanted to have a tough, physically and mentally challenging time camping, then I'd get into bushcrafting. That is too hardcore for me so props to those who do it! My Jeep is my home, and I want it to feel like that especially after a day of activities. I want creature comforts such as a soft mattress to sleep on and a fridge so I can have a cold drink or ice cream in the desert. Is this me being extra? Damn straight! But being comfortable encourages me to keep exploring.
Support photography exploration
The very thing that sparked the idea of overlanding for me is to photograph remote landscapes while documenting my travels. Living in NYC and traveling to cities like Hong Kong and Paris has given me plenty of opportunity to practice street photography, but it gets boring shooting the Brooklyn Bridge or the Louvre when everyone else does too. I want my images to have an intimate and detailed story on how the photographs were made. Building MAEV contributes to this story because it's how I'm able to travel to these remote landscape, where the average photographer doesn't go.
Getting my hands dirty…
By no means am I a mechanic. I am a talented product designer with frontend engineering skills who builds complex web apps in the infrastructure monitoring space. Growing up, I built computers, hacked operating systems for fun and played way too many video games. It's funny how my family would poke fun at how I could barely change a lightbulb, yet ask me for technical help - haha! It was a big surprise when all these boxes started showing up at my moms house because everyones reaction was, "So, who is going to be installing all these parts?" This is a big undertaking, and quite frankly a challenge I wasn't really prepared for, but I wanted to learn how to work on my vehicle. I bought myself a bunch of tools, started taking apart the vehicle and got to work installing the new parts.
It's taken me roughly 4-5 months to transform the Jeep and, while I've done a lot of work on my own, I did have the awesome team at OK4WD install my lift kit, wheels/tires, air lockers and gears. They were super patient with the absurd amount of questions and phone calls I had, and they did a great job.
I do want to note that by no means does anyone need to spend a bunch of money transforming a vehicle to go exploring like I did. There are a lot of stock 4x4 vehicles that are more than capable hitting the trails. Pick a place on the map, grab yourself a tent, cooler with food, a chair, then set off on an adventure. I would highly recommend taking some off-roading classes to improve your skill. I've seen some stock Wranglers, Toyotas and even a Lexus handle some challenging obstacles.
Follow along on my adventures at Instagram.com/climbrick and check back regularly for more stories!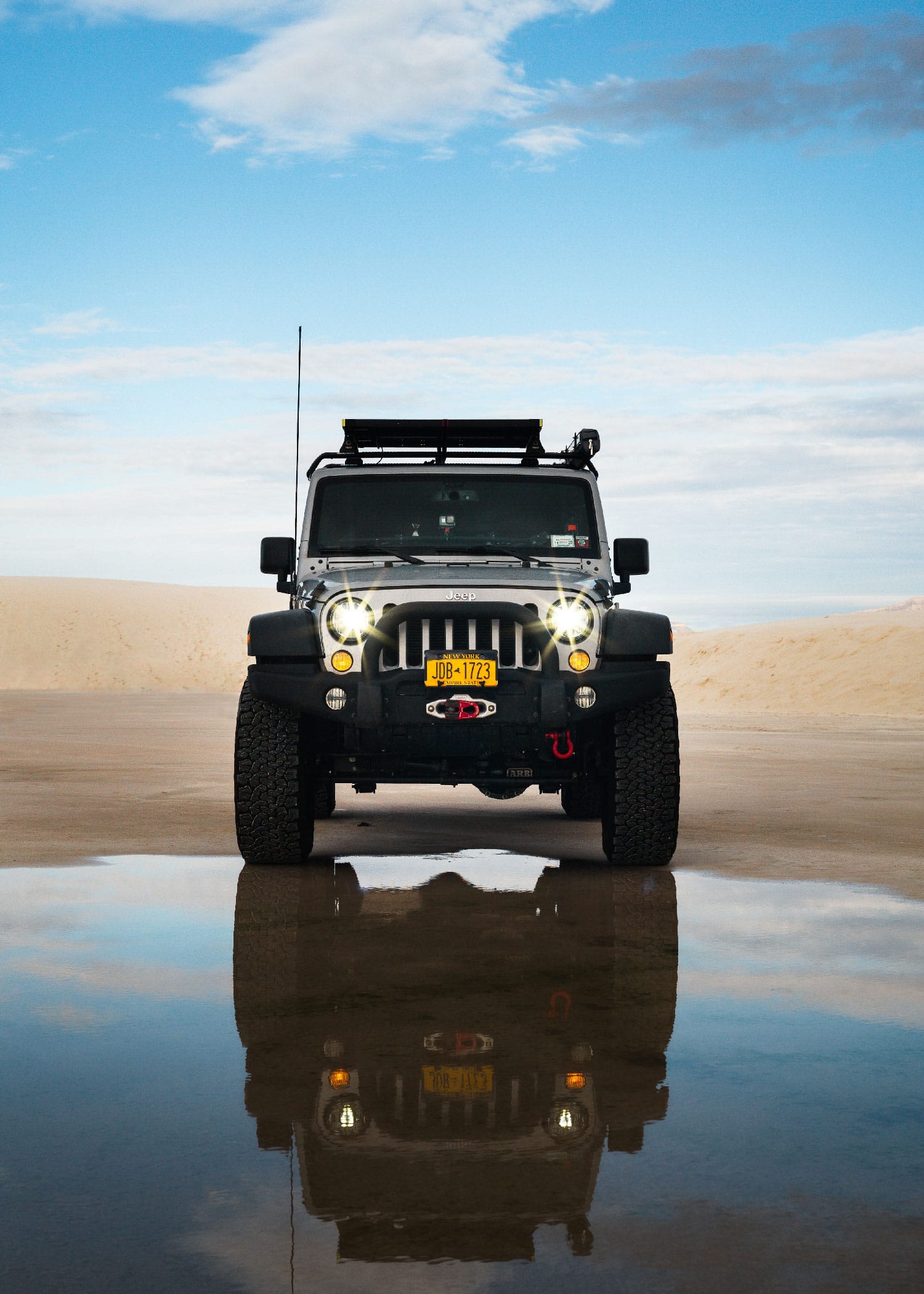 All the goodies
Here are the exterior modifications:
AEV 3.5" Lift
AEV Savegre wheels
35" BFG KO2
Yukon 4.88 Gears
ARB Front and Rear Air Lockers
ARB Differential Covers
JKS Quick Disconnect Sway Bars
AEV Front Bumper with bar
Warn Zeon 10-S winch
Factor 55 Flatlink E
KC Gravity Pro 7" LED Headlights
KC Gravity Pro LED Fog Lights
Wilson Flex CB Radio Antenna
ARB Dual Air Compressor
sPOD Bantam X
AEV Rear Bumper
AEV Tire Carrier
AEV Fuel Caddy
Hi-Lift 48" Jack
Rotopax Rototrax boards
Trasharoo bag
Rhino Rack Vortex roof rack
ARB 2000 Awning
Goal Zero Boulder 200 solar panels custom mounted on roof rack
Here are the interior modifications:
sPOD switches by rear view mirror
Vector Offroad Dock
67 Designs & RAM mounts for Garmin InReach, iPhone, GoPro, iPad Pro 11"
Uniden PRO520XL CB Radio
Custom built storage and sleeping platform
ARB Series II 50qt fridge on slide
Outback Adventures Trailgater table
Goal Zero Yeti 1000 battery