Photographing Antelope Canyon In Black And White
Antelope Canyon is stunning when the sunlight peeks through the cracks. I was not so lucky when I visited, turning my photographs into abstract works of art instead.
Below are a few photographs that make up an abstract collection from my visit to Antelope Canyon. They quickly grew in popularity one morning on Unsplash and were used by companies like Squarespace, Trello and Adobe.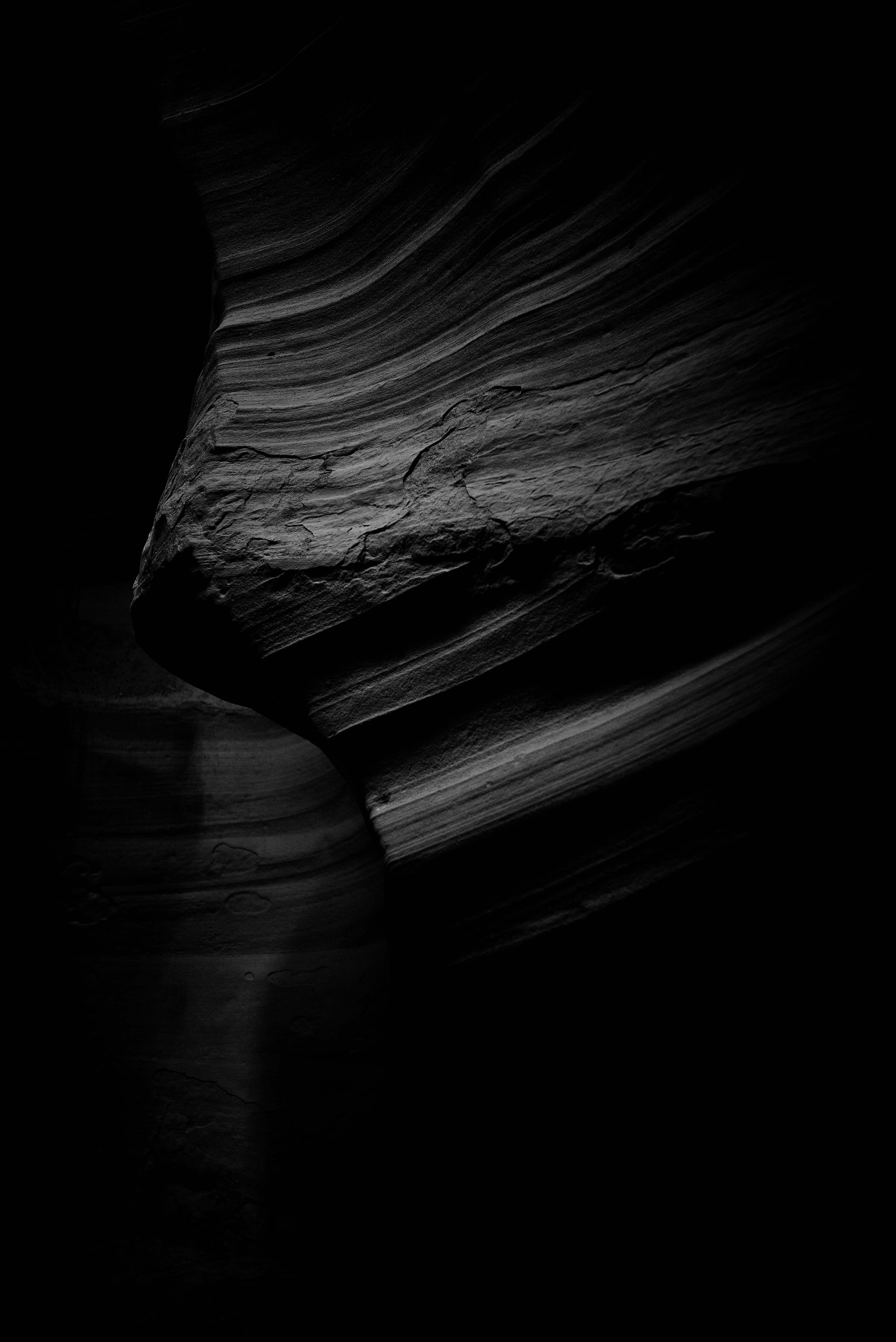 The Story
Antelope Canyon is one of the most famous canyons in the American Southwest, which is on Navajo land right outside of Page, Arizona. They're a beautiful sandstone slot canyon comprised of an upper and lower level. It gets its name from stories the Navajo tell where the antelope used to graze in the canyons during winter time. Due to heavy tourism, antelopes have moved on so don't expect to see any on your trip there.
To access the canyons, you need to have a tour guide who will take you and the tour group by big, lifted trucks. It was my birthday, October 10th, when I visited the canyons and we had one of the most engaging guides ever. The entrance to the canyons isn't anything spectacular, but once you step inside, you quickly realize why so many travel here. Light from the sun above shines down into the canyons illuminating the magical canyon walls. When dust is kicked up into the air, those light beams take form. The canyon walls are a gorgeous mix of reds, oranges, and purples, depending on how much light makes its way inside.
Unfortunately, the clouds decided to pay a visit during my tour. There were very brief moments when enough light would show me the canyon walls and it is absolutely breathtaking. However these clouds presented a real challenge when I wanted to take photographs. No light means a longer shutter speed and very flat colors. No tripod means a blurry image. So what was my game plan? After all, I traveled all this way to see these canyons and I was determined to take some photos!
Since I knew I wouldn't be taking the next National Geographic cover, I decided to go the abstract route and focus on black and white. These canyons twist and swirl which sparked an idea: "What if I were to place the canyon walls in the center of the frame and use negative space around it by using a heavy vignette?" That was my game plan.
With the idea formed, it was time to figure out my camera settings. I opened up the aperture as wide as possible, set my shutter to the slowest speed I felt comfortable hand holding and adjusted the ISO accordingly. If I look at my photograph's metadata, I was shooting 1/60s at f2.8 on my 28mm lens with an ISO of 1600. It shouldn't come to a surprise that one of the limitations of my Leica MD camera is that it is not so great in low light. I rarely go over ISO 800 because it introduces too much noise for my taste. Since I was converting the images to black and white, the noise would be more forgiving.
When I got back to the hotel room at the end of the day, I saved the photos to my computer and checked to see what I captured. I would have been happy with just a single, great imaged if I am really honest with myself. There were a lot of blurry images, but I could tell that there were enough for me to work with. I can't remember when I exactly edited them, but I used Silver Efex Pro to make my adjustments. This includes brightness, contrast, structure and adding a heavy vignette.
When I arrived back home in NYC after the vacation, I decided it was time to visit my studio to work in the darkroom. That morning, I remember thinking that I should upload them to Unsplash for others to use. From what I understood, I could not sell these photos because I didn't sign a commercial permit when I took them, but I could give them away for free. I felt that they were abstract enough that maybe a musician could use it for an album cover or someone would have a nice desktop background. Let me tell you what… I did not expect the response I got.
I uploaded 10 photographs and went about my day making prints in the darkroom. To my surprise, the head of the editorial team personally reached out to tell me how much they like my photographs and that they've added 6 to their Unsplash Editorial feed. According to my insights, I've received over 3.9 million views, 78,000 downloads and companies like Squarespace, Trello, Unfold, Adobe and InVision have featured them. Wow!
I haven't worked on an abstract pattern collection since, but reminiscing on how popular the Antelope Canyon photographs were has me thinking I should do it again.